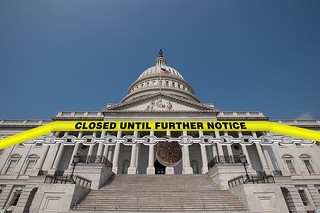 There are actually two strategies to take advantage of in times like these.  The first deals with investment portfolios that are directly in the stock or bond market either through mutual funds or individual securities maybe inside of a 401(k) or IRA or not.  The other strategy has little to do with the financial markets.
Over the next two weeks or so, as this shutdown works its way up to the real issue which is the debt ceiling, the chances of a meaningful stock market pullback are high.  I'm not talking about a few hundred points here or there.  I'm talking about a good old-fashioned pullback of 20 percent or more, which would be a few thousand points.  How are you prepared to play that move?
If you are currently holding longer maturity bonds or bond funds, when the market takes a breather and shaves off 20 percent or more, bonds will continue doing what they have been doing recently, which is going up.  When that happens, you might want to consider lowering your exposure to longer term maturities because the flipside of this story will eventually be higher interest rates.  You will not want to have a long maturity curve on your portfolio because you will see the value of those longer bonds crater.  Also, if everything works out, the stock market will be cheaper at the same time giving you the opportunity to add to your equity holdings at much better prices than today in theory.
Although the second strategy has nothing to do with the stock market, or the bond market, or the real estate market, it is the most popular choice of our very own congressional members.  If you want safety of principal, liquidity in order to get at the money at any time, a decent rate of return, and earnings that are not subject to taxes, I suggest you use the advantages of the insurance industry inside of your personal wealth management strategy.  Only the 300-year old insurance industry offers all of those features.  If you have all of your money in stocks and bonds and mutual funds and real estate, you are taking systemic risk beyond anything you could imagine.  It might be time to consider diversifying some of your money into the favorite investment of the world's most powerful people.
* * * * *
Information presented in this blog post is believed to be factual and up-to-date, but we do not guarantee its accuracy and it should not be regarded as a complete analysis of the subjects discussed. Discussions and answers to questions do not involve the rendering of personalized investment advice, but are limited to the dissemination of general information and may not be suitable for all readers. A professional adviser should be consulted before implementing any of the strategies presented.
photo credit: KAZVorpal via photopin cc